SHIPPING MOON CAKE BY AIR TO KOREA
Introduce Vietnam Moon Cake
Mooncakes are the hallmark food of the Mid-Autumn Festival, a cultural and religious holiday that is celebrated during the fall harvest. The pastries are eaten around the time when the moon is supposedly at its fullest and brightest. They're given as gifts to family members, friends, neighbors, co-workers and employees, a traditional gesture that accompanies family gatherings and public celebrations.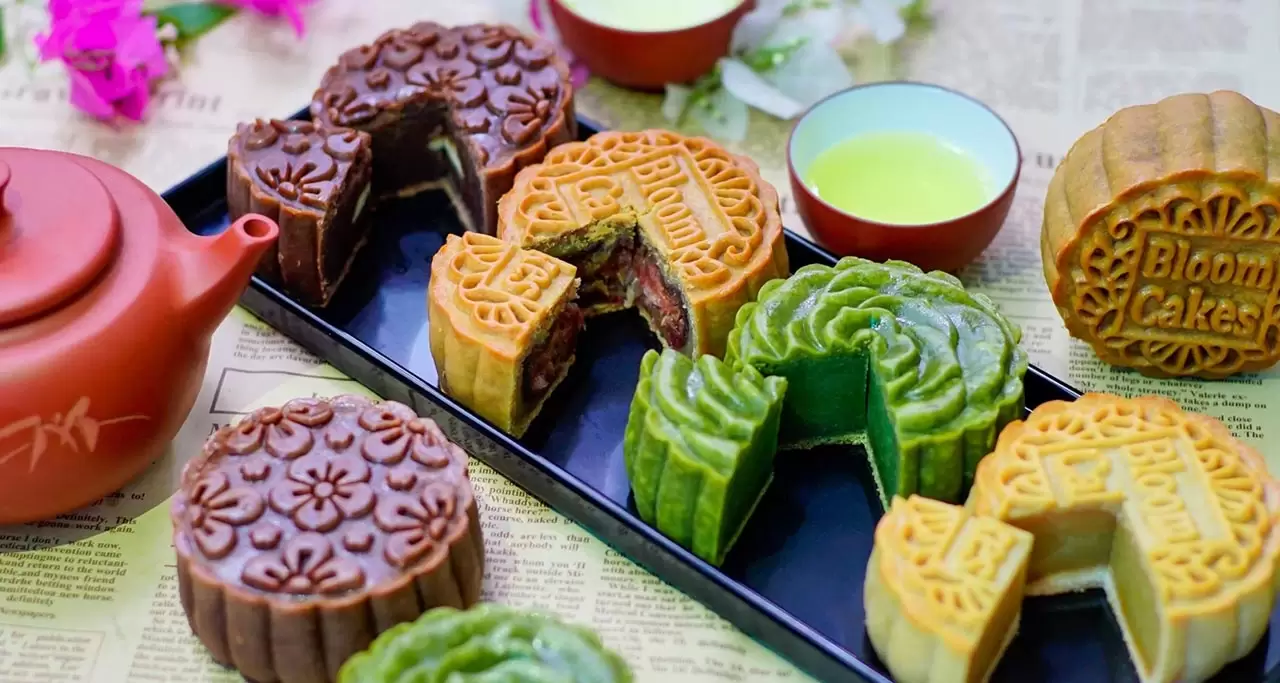 The types of Moon Cake
1. Pies Moon Cake
Currently, there are two most popular types of mooncakes: flexible cakes and baked goods. User tastes are changing, more and more innovative and healthy mooncakes are born and are loved by many people.
1.1. Traditional baked goods (mixed filling)
As the trend of mooncakes improves more and more, traditional baked goods still do not cool down, keeping the traditional flavor. With basic ingredients such as sausages, bare skin, nuts, pumpkin jam, sweet lotus seeds and a beautiful golden crust.
Currently, the chefs are also diversifying the ingredients, replacing them with more advanced ingredients such as abalone, fish fins, etc. Sipping a piece of traditional scones with a cup of light green tea, gathering with the family is An indispensable experience on the occasion of the full moon.
1.2. Cakes of other flavors
The filling of green bean cake, green bean with lotus seed, green tea with salted egg are the top 3 most popular and most popular cake fillings. Although the composition is not too complicated, it still produces a beautiful finished product. The mung bean paste has a moderate sweetness, flexibility, and deliciousness.
Soft moon cake
The flexible cake has a clear white crust – the color of the roasted, ground and finely sifted glutinous rice flour. The cake's crust materials include glutinous rice flour, sugar water, grapefruit perfume and a little odorless cooking oil so that the cake has a mild aroma and the dough does not dry out.
Soft cakes combined with slugs such as green bean paste, coconut milk taro, etc. are very popular. In addition, the chef cleverly diversified the crust of the cake to attract the eyes of buyers such as pandan leaves (green), passion fruit (yellow), etc.
Vegetarian moon cake
Vegetarian mooncakes are frugal, healthy, suitable for vegetarians, vegans and those with diabetes and heart disease. If you are not a sweet person, abstain from oil or are too tired of traditional flavors, do not ignore vegetarian mooncakes. With healthy ingredients of green beans, lotus seeds, and taro, you can absolutely eat well without worrying about gaining weight.
The advantages of Indochina Post in cosmetics delivery.
Professional care, 24/7 support: Customers are the first priority at Indochina Post. Thus, we always respond to and support express delivery service requests all time,
Fast shipping time: Delivery of goods from Ho Chi Minh City to Berlin about 4 – 10 days.
Indochina Post is a professional domestic and international freight forwarder with many years of experience in the field of delivery.
We believe on-time delivery is our guarantee to our customers.
Simple procedures: As mentioned above, Indochina Post has many years of experience in the field of forwarding, so customs procedures, import procedures, etc. We will be handled simply and quickly.
The service which we provide.
Express Delivery service: shipping 63 provinces and cities of VietNam.
Delivery of all things but dangerous and prohibited goods.
Cosmetics: All cosmetics, skincare products, dietary supplements, trademarks, and receipts are required.
Clothing: T-shirt, shirt, skirt, pants, etc., any kind of clothes.
Dry foods: e.g. cakes, chocolates, candies, etc.
Kitchenware: ovens, rice cookers, cups, forks, spoons, forks, knives, and other kitchen utensils.
Bags, shoes, accessories: need brand and purchase receipt.
Import and Export license.
Warehousing.
Airfreight.
Sea freight.
Trucking.